How to Measure Your Pool Table
Pool tables are measured on the play surface, i.e. the area that the pool balls actually roll on. Therefore, measurements are taken from the cushion nose to cushion nose – be sure not to measure beneath the cushions or inside the pocket, but where the pool ball actually makes contact. The length should be double the width, but if you want to confirm, you can also measure lengthwise.
We're here to help whether you purchase from us or not – Contact Us for additional help should you have more questions.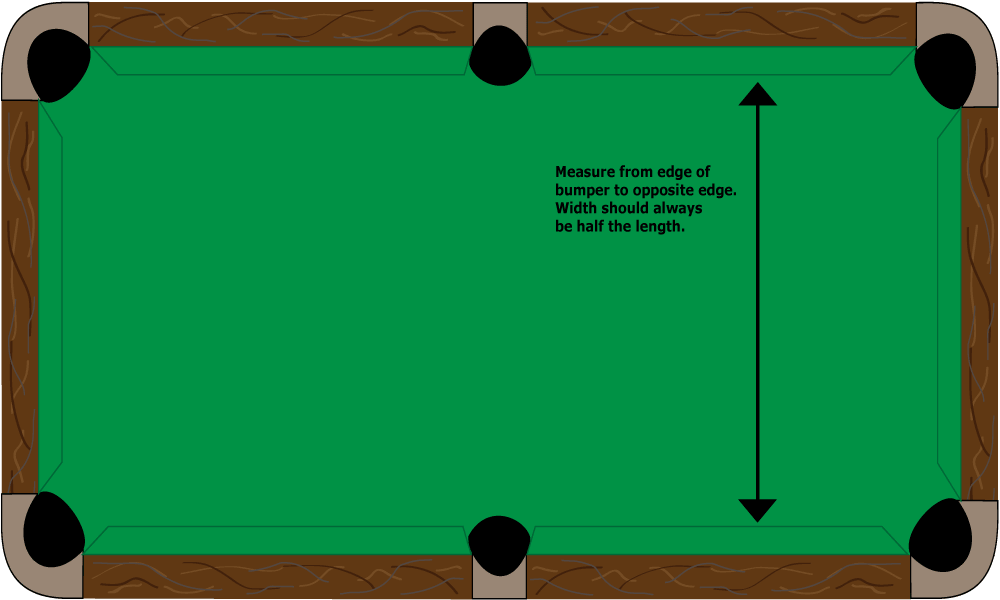 Minimum Space Requirements
3'6″ x 7′ (Playing area: 38″ x 76″)
Ideal space: 13′ (W) x 16′ (L)
4′ x 8′ (Playing area: 44″ x 88″)
Ideal space: 13'6″ (W) x 17′ (L)
4'6″ x 9′ (Playing area: 50″ x 100″)
Ideal space: 14′ (W) x 18′ (L)
When choosing a pool table, you will first want to make sure the table fits in the room with enough space around the sides so that the cue doesn't hit your wall when addressing a ball at the rail. The measurements above show you the minimum dimensions needed, with the chart below offers options for different size cues. If the table is too large for your room, be prepared for cues continually marking, scratching, and banging into the surrounding walls and furniture. With that being said, there is usually some leeway if your area is right on the cusp between two sizes – you can always use a shorter cue or situate the table such that you have more space.

 *Play pack cue length is 58″*
What Size Table is Right for You?
Planning out a game room? Moving into a new home and need your table moved? Learn the ideal spacing for a pool table and how to measure one.
We are often asked for a "regulation size" billiard table, or a "standard size." There is no true standard or typical size table; regulation size simply means the play area is twice as long as it is wide, measured from the nose of the cushions. This is also the Billiard Congress of America specification for a regulation table. We sell billiard tables in many sizes, from 6′, 7′, 8′, Oversized 8′, and 9′ pool tables to 10′ or 12′ snooker or carom tables.
You'll want to consider the purpose of the table and who will be playing. Generally speaking, the smaller the table, the easier the game will be. If you plan to go pro, by all means, have at the 9′ table, the size often used in professional tournament play! If you simply want to hang out with friends and family, the 8′ is the most popular residential size. Most pool tables found in bars are 7′, so they can turn over more games.
A pool table can be a fantastic item to bring together friends and family and should be viewed as a piece of furniture that accentuates your room and style. When choosing the perfect pool table for your family, we recommend making sure it fits in the room, make sure you like the style and finish, and then make sure the table is a size everyone can play on – in that order. We're here to assist you with any questions and would be happy to put together a room layout for you. You should experience a lifetime of fun with your purchase!
We also offer In-Home Game Room Consultations if you are concerned about how the pool table will fit or if you're considering adding in some other game tables (shuffleboard, air hockey, foosball, or furniture). It's important to note that rail sizes vary on tables depending on the style and manufacturer; while this doesn't truly impact your measuring (since you're shooting from within the rails), the bigger footprint can make more of an impact in a smaller space.