Our reliable, high-performance spas are designed for comfort, efficient energy use, and simple maintenance so you can enjoy the full wellness benefits that come from making a hot tub part of your daily routine.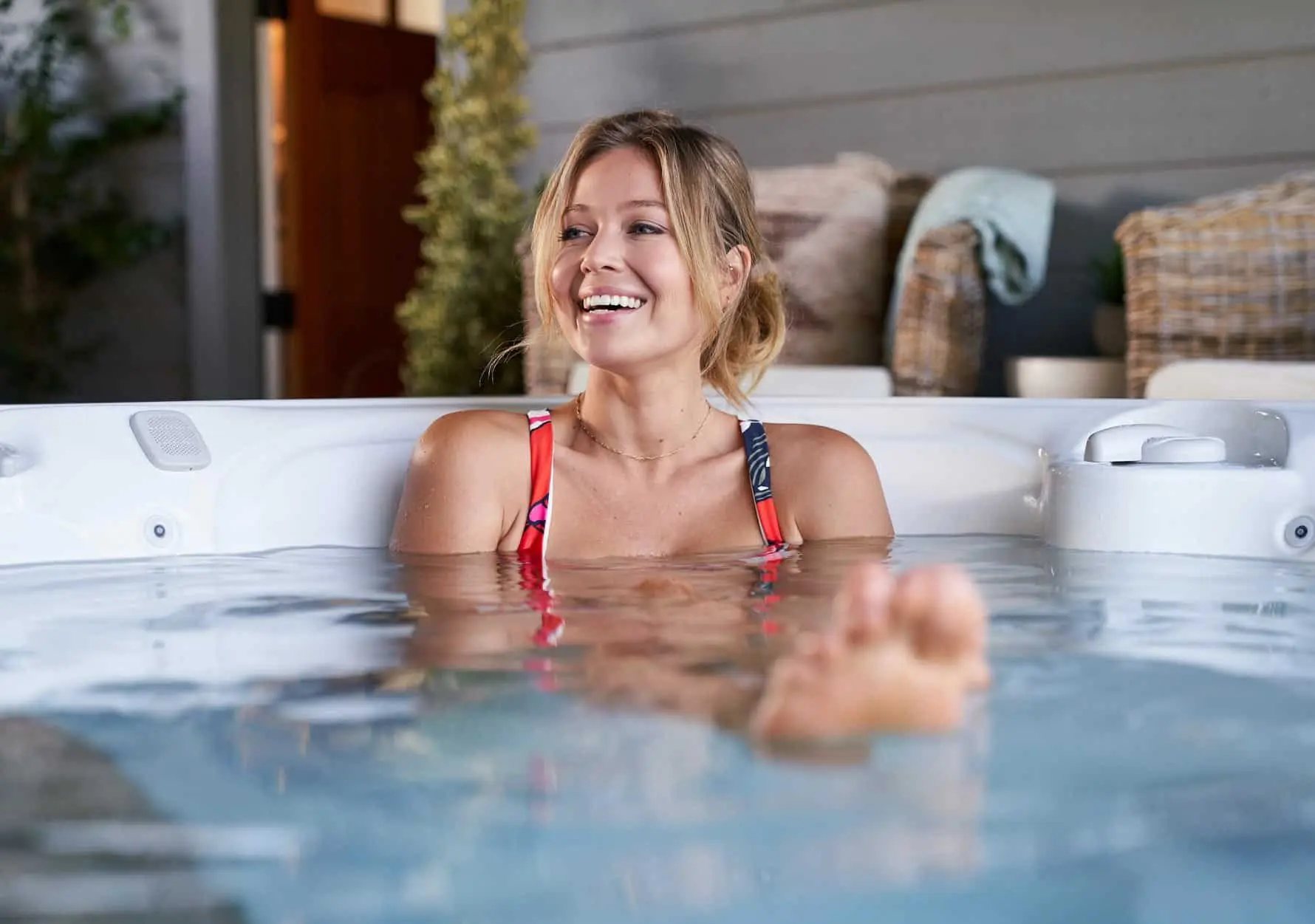 Experience the innovation and excellence behind the Caldera Spas® Brand! Shop from 15+ models to elevate your backyard in brand-new ways.
YOU'RE WORTH THE INVESTMENT
Unique features of Caldera Spas®
Not all hot tubs are the same. We are a proud dealer of Caldera Spas here in the Triad and Charlotte areas of North Carolina. Caldera Spas® offer unique features that you can learn more about here or simply hover over one of the dots to see more.
Caldera's Hot Tub Circuit Therapy® is the most efficient way to work out your muscles. Our specially designed jets and seats target each muscle group, giving you a full-body massage in one session. Each seat or position in our spa provides different benefits for an individual's specific needs when it comes to pain relief therapy—so whether you need help with neck tension, back spasms or sciatic nerve discomfort; we have just what you need!
Elevate your lifestyle with a little extra relaxation, self-care, and rejuvenation! With Caldera Spas®, you can look forward to a boost in your backyard appeal and home value. Not only that, but the seamless installation of a hot tub can also have a positive impact on your overall health!
Where Style Meets Innovation
When it comes to the hot tub lifestyle, there really is no comparison. You can enjoy a simpler approach to health and wellness, all while making a lasting investment in your home and quality time with loved ones. When complemented by the innovation and excellence that is synonymous with Caldera Spas® , you'll wonder how you ever went without.
Comfort is the essential element in the design and innovation begind Caldera Spas®. Deep, cradling seats and a textured Foot Ridge® help you stay relaxed and seated, even when enjoying powerful jets. Perfectly-positioned hydrotherapy massage melts your tension away. And a whisper-quiet, sound-dampening design enhances the entire experience.
We craft each hot tub detail to awaken the senses. From rich colors and contemporary cabinet styles to the organic contours of our sculpted seats, every element is intended to soothe and delight.
To get the most out of your spa, it needs to operate at a consistently high level. Each Caldera Spa® is engineered and built with the strictest attention to quality and efficiency. Our commitment is your assurance of reliable, energy-efficient performance for years of worry-free hot tubbing.
Our commitment to customer satisfaction shines in our reviews. Just see what our customers have had to say!
"Installation went very smooth, the whole process took about two hours. The guys were very knowledgeable and easy to talk to. They installed the spa went over everything with me and gave me everything that I needed to start enjoying the spa. The delivery for the spa was fast and showed up without a scratch. From the sales people to the electrician and installers, things went smooth and we are very happy with the service and product."
"Megan and Judson are great to work with; both professional, friendly and focused on great customer service. We couldn't be more pleased with our decision to buy our hot tub at Everything Billiards & Spa."
"We worked with both Megan and Judson...both were extremely knowledgeable about their products. We were so happy to be able to purchase a floor model spa. Delivery wasnt to bad of a wait. Installation went smoothly. I would definitely do business with again. We absolutely love our new Saratoga Regent hot tub!"
"Judson & the folks at Everything Billiards & Spas were AMAZING! It's a trying time in the world right now with covid & everything and getting a hot tub wasn't easy but these guys are problem solvers and are willing to go above and beyond to make it happen. We absolutely LOVE our new Fantasy Entice spa! They've earned my business for life! Highly recommend!"
Our team of home and backyard leisure experts are here to help you, every step of the way. Get in touch with us today!